My Ice Skating Background and History
1968 - 73: I began Skating at age 18 in Baltimore, Maryland with the Free State Figure Skating Club. My pro coach was Robert S. Ogilvie, author of ``Basic Ice Skating Skills", An Official Handbook Prepared for the United States Figure Skating Association. I have been a member of the USFSA since I began skating. I attended several summer skating camps during those years with Ogilvie at Wilmington, Delaware, Troy, New, and Fairfax, Virginia. I worked on basic skills, spins, jumps, footwork, figures and dance. The highest figure test I passed was the 2nd. I passed all the Preliminary dances and some Bronze dances. (There were no pre-bronze dances at that time.)
1973 - 1977: I skated with the Yale Figure Skating Club while a graduate student in mathematics at Yale. I had coaching help from Carl Walker (dance), Monty Tiedeman (national dance competitor), Chris Kales (national singles competitor). I continued to work on freestyle and dance, and passed Bronze and Pre-Silver dances by May 1977.
1977 - 1979: I skated with the Philadelphia Skating Club & Humane Society in Ardmore, Pennsylvania. (I was a member from 1978 to 1979.) I worked with Red Bainbridge on Silver dances. I learned a lot about partnering in dance from many wonderful adult dancers at the social dance sessions.
1979 - present: I joined the Binghamton Figure Skating Club in 1979. I have been skating regularly here ever since except for two periods when I was in Princeton, New Jersey at the Institute for Advanced Study for mathematical research (1982 - 83 and 1987 - 88). While in Princeton I joined the Princeton Figure Skating Club and took lessons in dance from Debbie MacManimon (ex-dance partner of Monty Tiedeman). I worked on the Silver dances (American Waltz and Rocker Foxtrot). In Binghamton I participated in some of the Holiday Festival On Ice shows at the Arena, and more recently have performed in the Spring Exhibitions of the Binghamton FSC.
1993 - 1999: I was coached by Jodi Alden, and passed all the Silver and Pre-Gold dances. I also worked on spins, footwork and some jumps, but after an injury to my left knee I have not seriously worked on the jumps. In the past I worked very seriously on the jumps and learned all the single jumps except the Axel. I have worked on the Axel and several double jumps with Ogilvie and later coaches, and feel that I understand the technical theory of these jumps.
1999 - 2000: I worked with Stacy Martin on Gold dance and had some lessons from Matt Thomas as well during a summer camp at the Chenango Bridge Ice Arena. I attended the USFSA Adult Training Camp in Laurel Maryland, June 10-11, 2000.
2000 - present: My main coach now is Alison Lovejoy, and my dance partner is Julie Tucker. I have worked on the Adult Moves in the Field and on the Gold Ice Dances. I passed all of the Adult Moves in the Field tests and completed the Gold one at the end of the 2007 season. I passed the Adult Viennese Waltz partnered by Alison Lovejoy, and on Dec. 15, 2007 I passed the Adult Quickstep, partnered by Jackie Klein, who was my second coach while she was working in this area. I passed the Adult Argentine Tango on Dec. 19, 2009 partnered by Julie Tucker. That leaves me only the Westminster Waltz to complete the Gold ice dance level. I had worked on some free dances with Jackie Klein, and even started to learn some lifts. In the 2009-2010 season I have been working on the gold dances with the coaching help of Alison Lovejoy, Julie Tucker (dance partner), and Jeff Petri. I am currently serving as President of the Binghamton Figure Skating Club, so I have dropped my membership in the Professional Skaters Association.
My Skating Teaching Experience
I taught group lessons as a volunteer with the ``Skate With Us" program at Grippen Park in 1994. Later I taught group lessons with the ``Ice Skating Institute" program at the Polar Cap Ice Rink when Jodi Alden was skating director, and sometimes helped out after Stacy Martin took over. I joined the Professional Skaters Association and have been giving both group and private lessons on BFSC ice since 2000. My main interest is in ice dancing, and I have helped partner many skaters through their dance tests, but I feel well qualified to coach all the basic skills and some freestyle, as well.
Below are pictures of Jodi and me working on the Blues and Killian. There are also pictures of Jackie Klein and me taken at a Spring Exhibition during and after our performance. The final picture is from the most recent spring exhibition in 2007, during a lift where I did one turn holding her.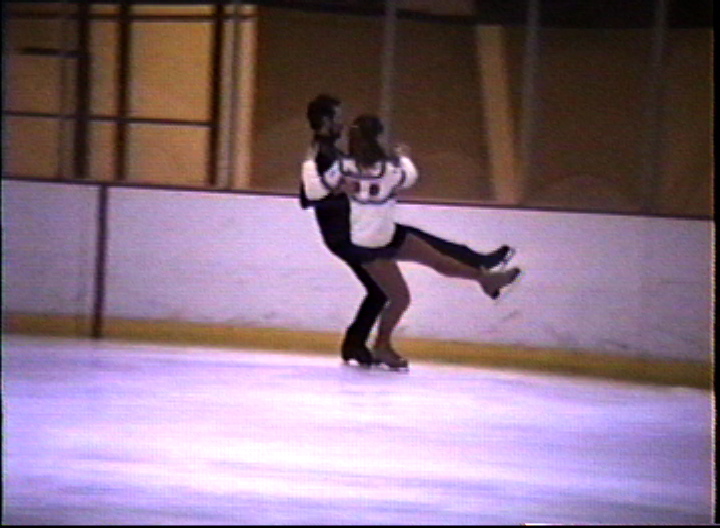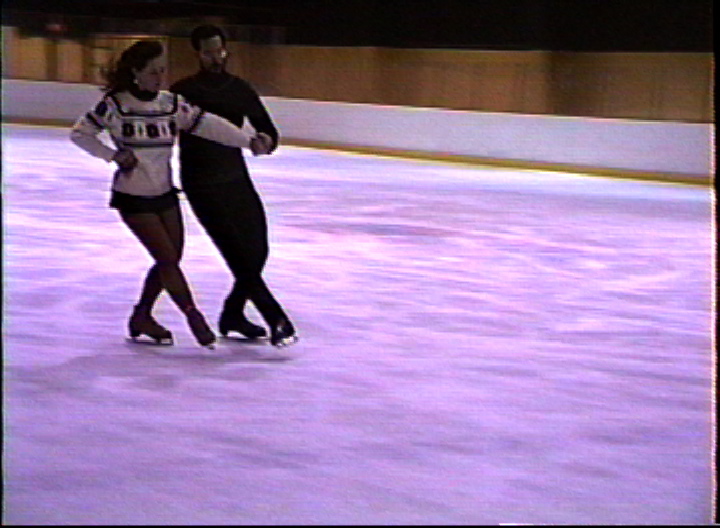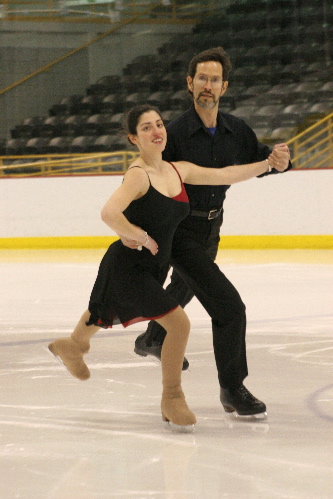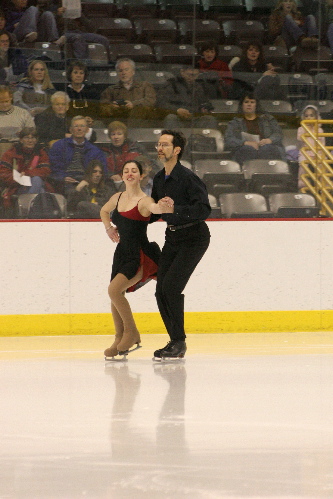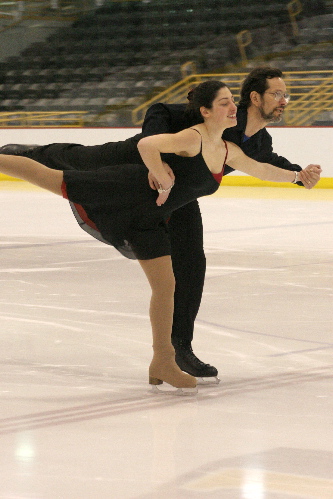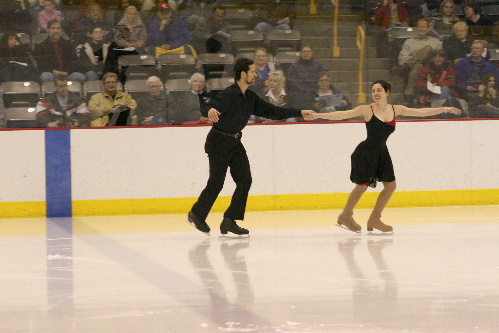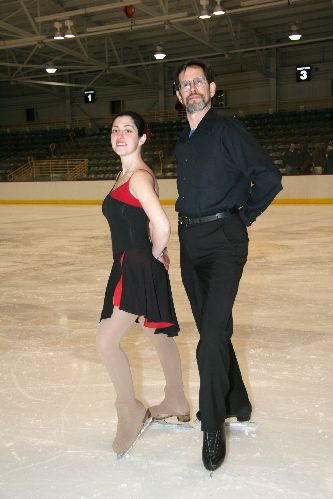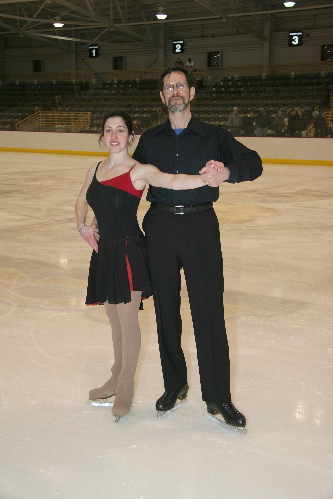 Links back to:
Alex Feingold's Webpage,
Department of Mathematical Sciences,
Binghamton University.

This Webpage was last updated on 2/3/2010

---