Sculptures from Summer 2009
by Alex J. Feingold
On this page I show the sculpture projects which I have worked on in Summer 2009. Some of these are completions of projects started before, and some are initial stages of pieces which will be cast in Fall 2009.
In Spring 2006 I made a small sculpture in the form of three triangles made from bronze rods. They were welded together to represent movement through space, and could be presented in many different positions. I had some wroght iron salvaged from old chairs, both straight and curved pieces, which I made into two more versions of this idea. Here are pictures showing just two positions in which they could be displayed. These triangles are about 17" on each side, and the rods have a square cross-section.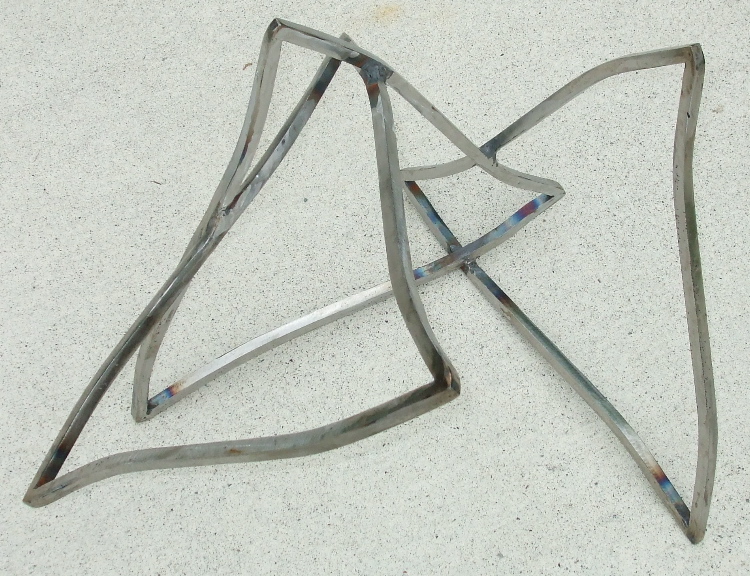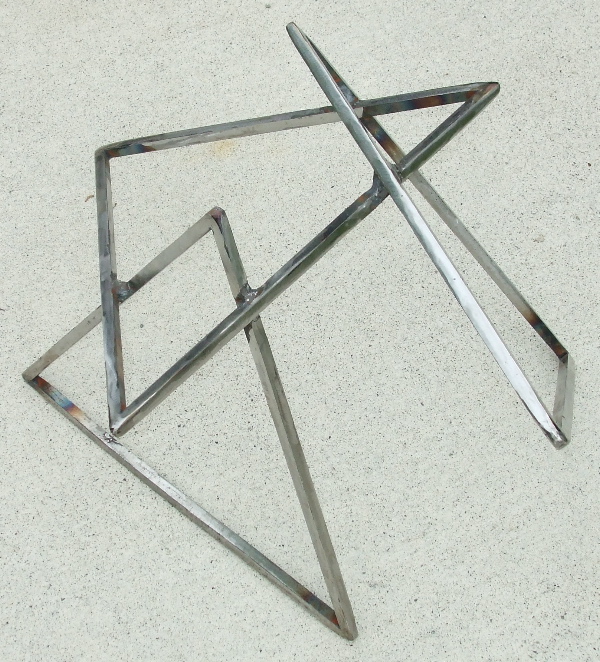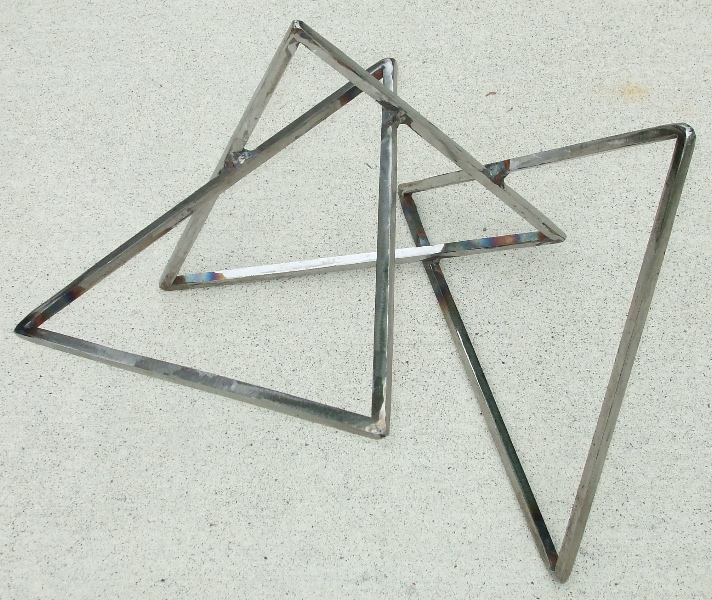 I have made two new wood carvings from cocobolo, similar to the pentagonal torus pictured on the Fall 08 page, but in this one the knot made by the raised edge forms a nontrivial 5-crossing knot in space as it goes around the torus twice, and through the hole 3 times, before closing. These pictures show them polished and mounted on stands, which are also made of cocobolo.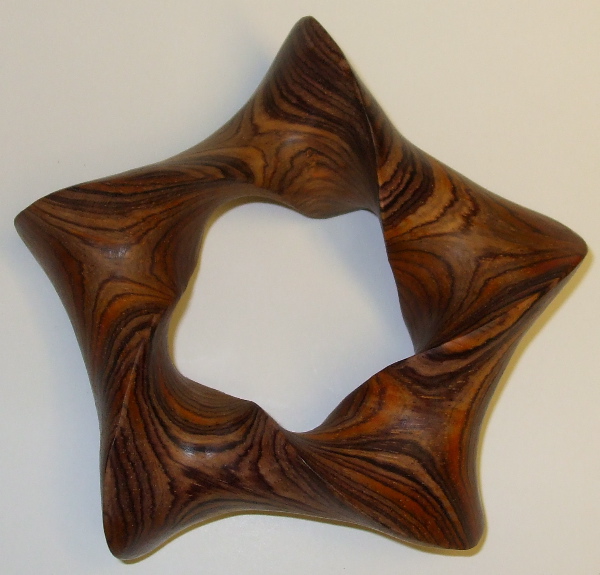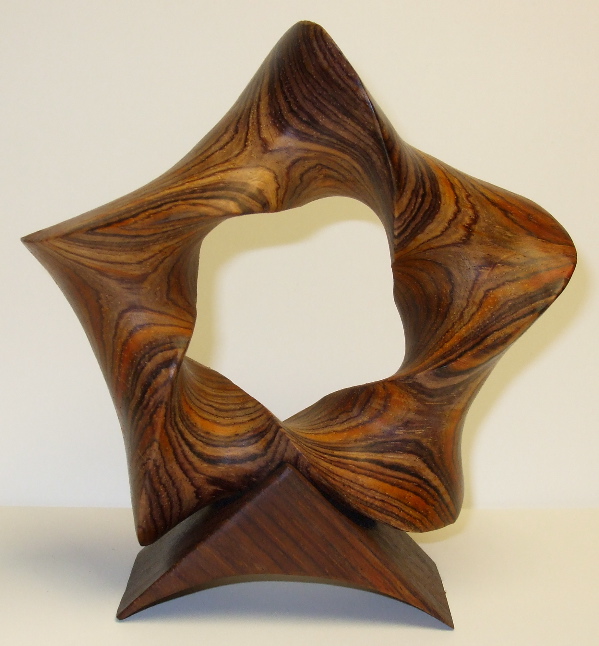 I have had the idea of making a sculpture consisting of a sequence of horizontal rods connected near their ends, angled so that they go around a central cylindrical space, climbing up and up as they go around. One way to do this would be to drill holes and have a connecting vertical rod around which each two adjacent horizontal rods could rotate. The horizontal rods would be placed one on top of the other, so that the sequence of rods would climb up, but the position of each adjacent pair would be infinitely adjustable, making a variable sculpture. The difficulty with such a construction is making the connections between the rods strong and stable enough to withstand the weight of all the rods above.
I have recently made a metal sculpture out of iron rods showing the basic idea of a sequence of climbing steps, but welded into fixed positions, not variable. I chose to base this on a pentagon, and to have the rods welded at an upward angle so that they would climb more rapidly. The results can be seen in the following pictures.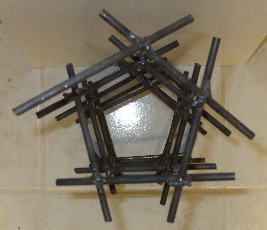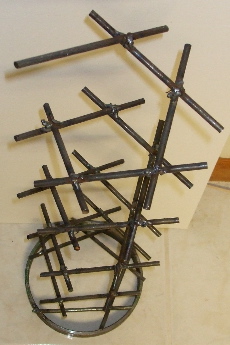 In Fall 2008 I made a bronze casting of a sculpture inspired by the famous Brent Collins' sculpture ``Pax Mundi". My version came our looking more like a version Collins called a Sinus Mace, or a Ribbon Sphere. My version also had many imperfections needing repair, and it has been difficult to finish. Here, after many hours of welding repairs, is what it looks like now, much better but not fully polished yet.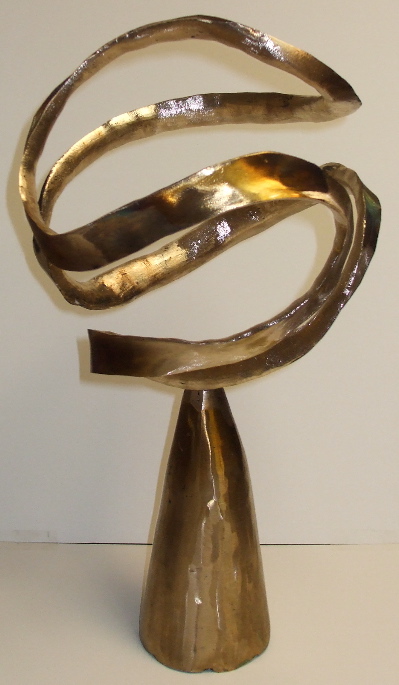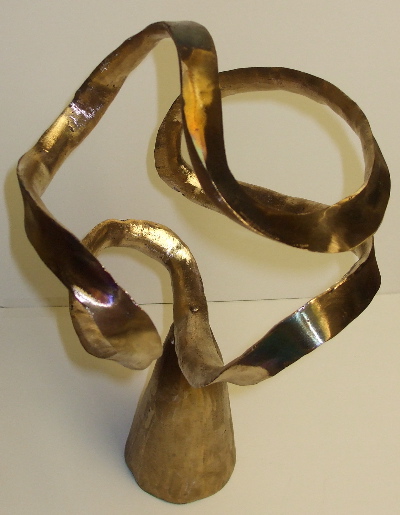 In Spring 2008 I made a bronze scupture looking like a steering wheel, a genus 3 surface with three curves carved as raised edges that formed three linked knots. After further polishing, I gave the sculpture a patina, and removed it along the raised edges so that they are visually emphasized by their lighter color. The results can be seen in the following pictures.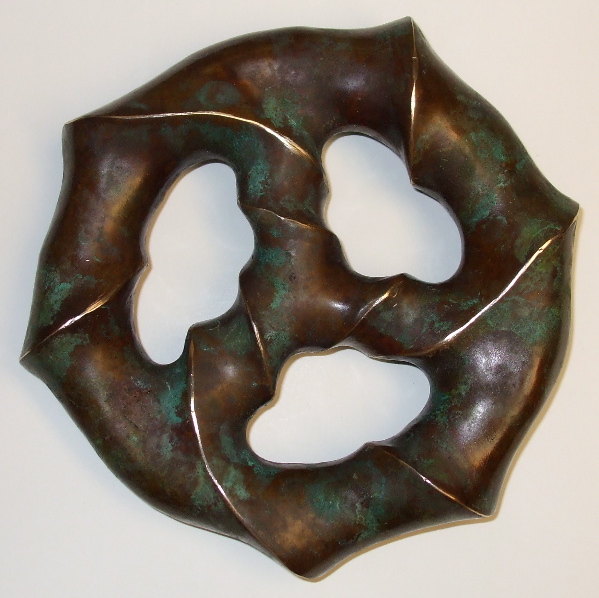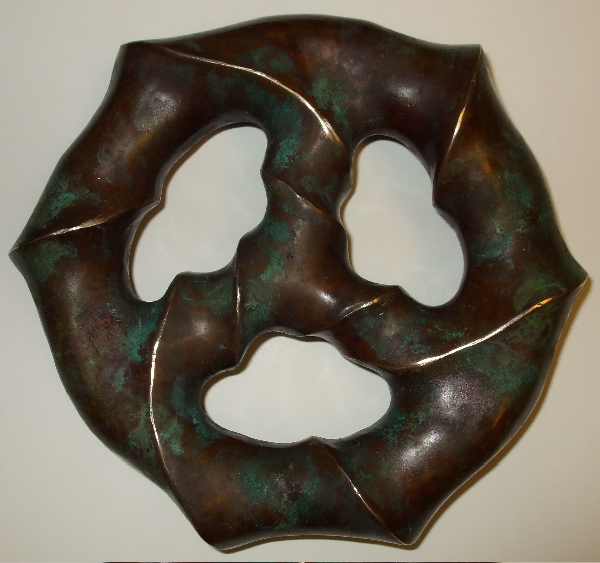 I bought a pair of Indian bells, usually used for meditation and yoga, but I made a stand and base for them out of marble and a bronze rod. With this stand a small push sets them moving and chiming freely.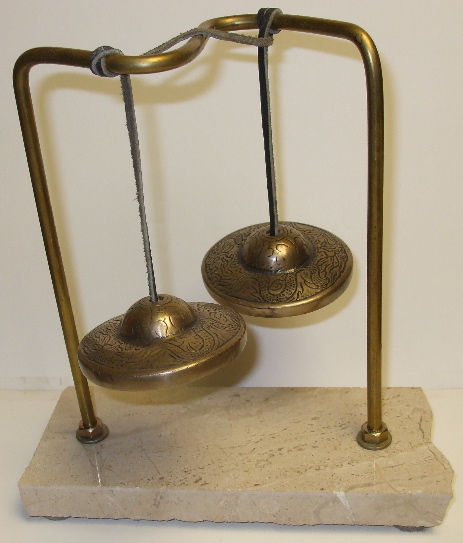 On June 23, 2009, I attended one day of the Eighth Interdisciplinary Conference of the International Society of the Arts, Mathematics and Architecture (ISAMA) in Albany, NY. I had the honor and pleasure of meeting Kenneth Snelson, who gave a talk on ``Forces Made Visible". There were many other interesting talks, and artists showing their work, including Robert Bosch, a professor of mathematics from Oberlin College. I bought one of his recent ``Knothole Sculptures", a disk cut into two pieces which have a great symmetry between them, and yet fill the disk. This one is made of plastic, almost 5" in diameter, and its picture is the first one below. It gave me an idea for a bronze sculpture based on the ``Disks Operad", which I have made out of wax to be cast next semester.
I have also made a wax model of the alternating torus knot which goes through the center hole 3 times while going around the outside of the hole 2 times. This is the same knot formed by the raised edge of the cocobolo wood carved torus shown above. I plan to cast it in bronze next semester, and hope it will have good sound qualities. The cross pieces are only for support, and will be removed in the final sculpture.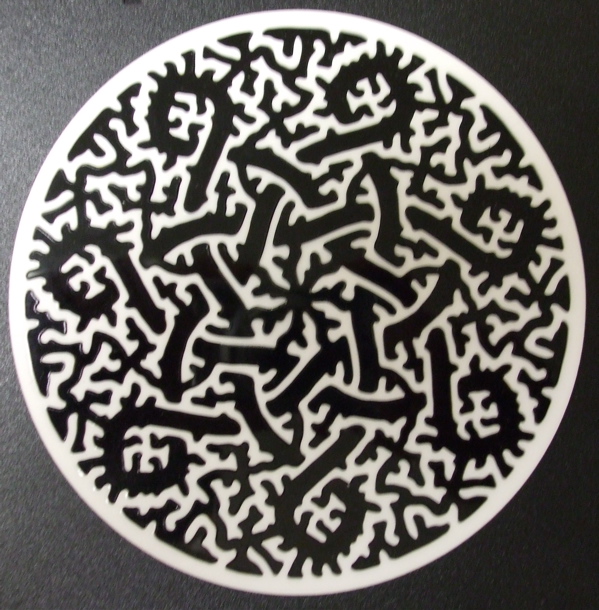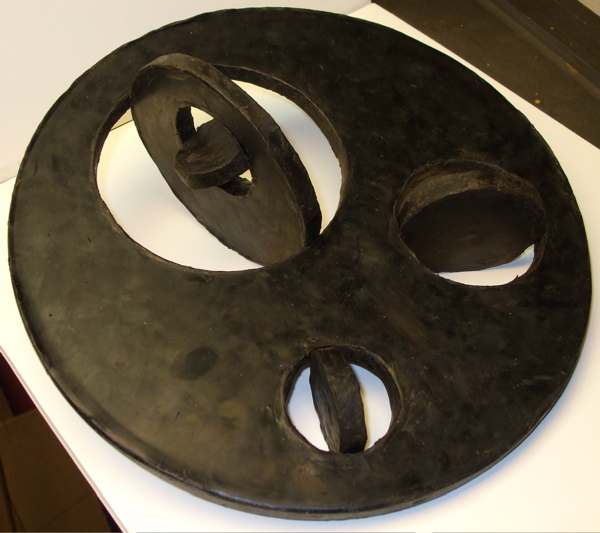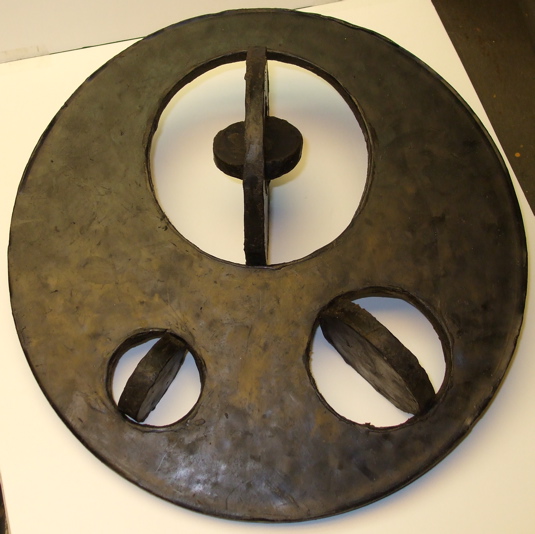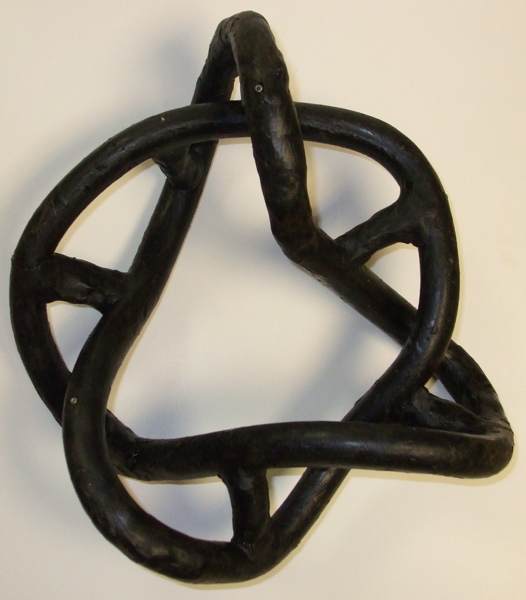 I have made three new kinetic sound sculptures in the style of Harry Bertoia. These each have a steel base plate and 1/8"x36" steel rods. One has the 7-rod hexagon pattern of type A2, with 3/8"x2" steel tops on each rod. Another has the 13-rod pattern of type G2, with 3/8"x2" steel tops on each rod. I have mounted these two base plates on red oak wooden bases to enhance their stability and sound quality. I also made one with 121 rods in a square pattern on a 12"x12" base with no tops added. Pictures of these are shown below.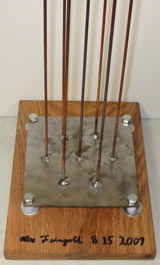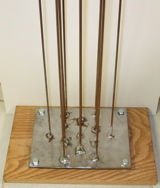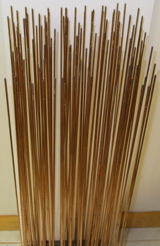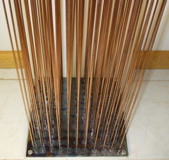 To see more types of sculpture I have tried, follow the following links:


Kinetic Sound Sculptures of Alex Feingold,
Stone and Wood Sculptures of Alex Feingold,
Bronze Metal Sculptures of Alex Feingold,
Steel and Plastic Sculptures of Alex Feingold,
Sculptures from Summer 2006,
Sculptures from Fall 2006,
Sculptures from Spring 2007,
Sculptures from Summer 2007,
Sculptures from Spring 2008,
Sculptures from Summer 2008,
Sculptures from Fall 2008,


Links back to:
Webpage of Alex Feingold,
Department of Mathematical Sciences,
Binghamton University.

This Webpage was last updated on 8/19/2009

---