Sculptures from Fall 2015
by Alex J. Feingold
On this page will be pictures of sculptures I made in Fall 2015. The first one completed in Fall 2015 was a (3,5) torus knot carved from Tineo wood. It is 5.5" in diameter, having been carved from a block which was 2"x6"x6" in size. The following pictures show it from both sides. I still have two more pieces of wood to carve into torus knots, both from blocks of size 3"x6"x6", one of Timborana wood, the other from Kauri wood.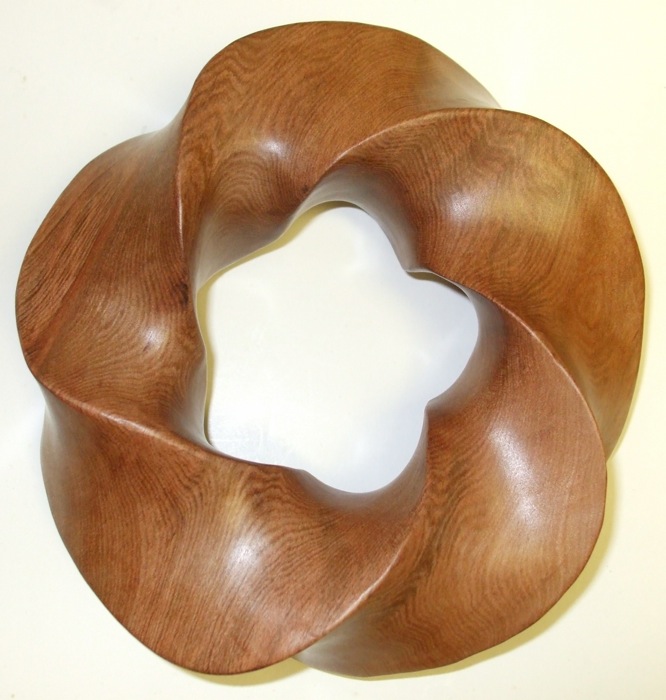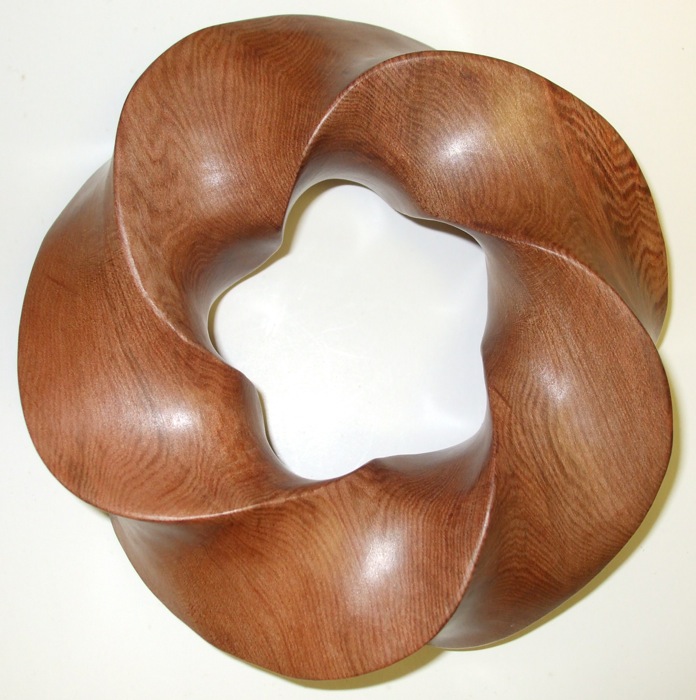 Below are three pictures (front, back, angled) of the (4,5) torus knot I carved from a 3"x6"x6" block of Kauri wood. I completed it on Sept. 17, 2015. It is almost 6" in diameter and 3" deep. This unusual type of wood from New Zealand is very old (thousands of years), and had been preserved from decay because of being in a bog. Just do an internet search for ``Kauri wood" and read all about it. I found it to be a rather soft wood, making very fine dust during polishing.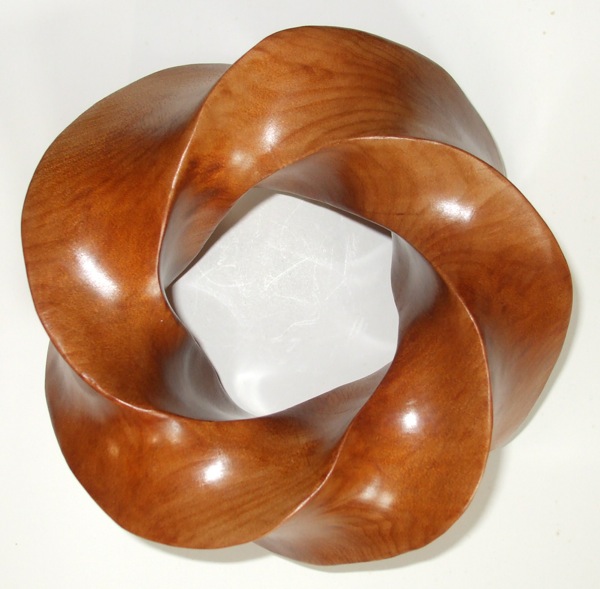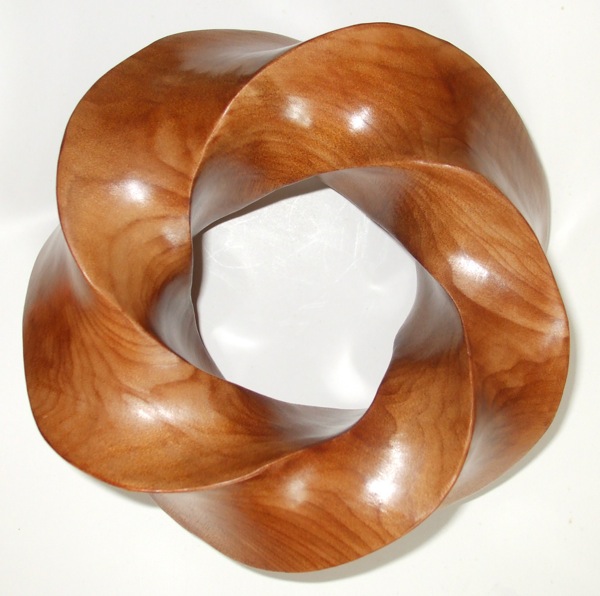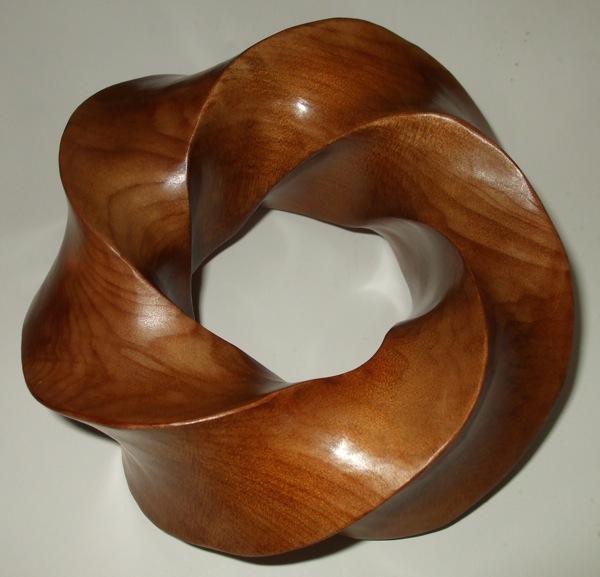 I modified the design of the Zagier Tetrahedron, whose first version was shown on my Sculptures from Spring 2015 webpage. I made the surface thicker so that I could include two cylindrical pegs and two matching cylindrical holes in the edge of each half, so that two copies would fit together for gluing more easily and precisely when the pegs go into the holes. The pictures below show the result of two halves glued together. I also applied a colorless protective sealant to the surface. The two pieces were made at Shapeways.com by 3D printing from their white strong and flexible plastic material, and I received the result on October 23, 2015.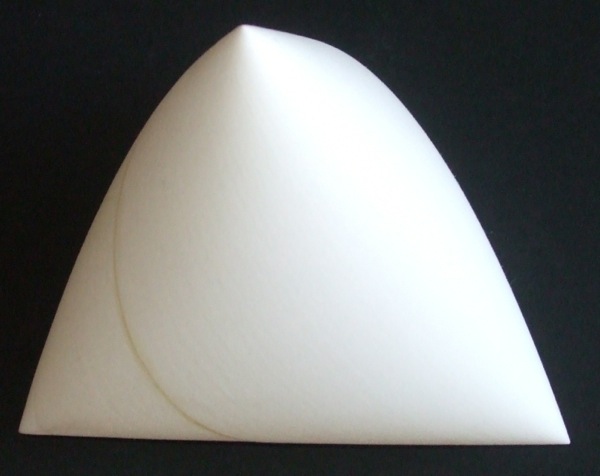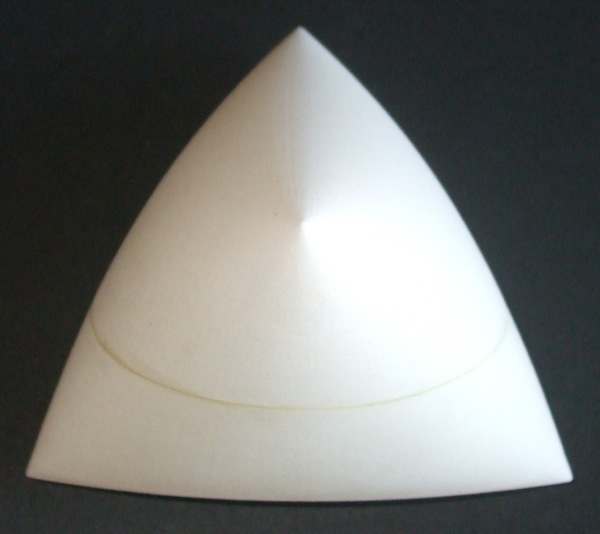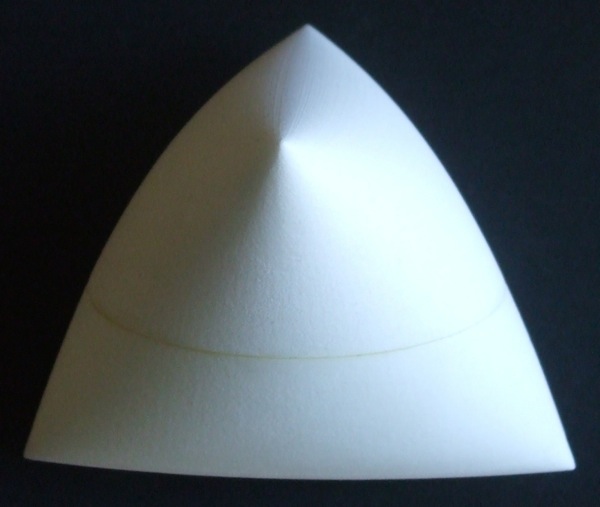 I have opened a ``Shapeways Shop", Alex Feingold's Mathematical Art, where some of my designs are now available for purchase as 3D printed objects in various materials (strong flexible plastics in various colors, stainless steel, bronze, silver, etc.). As I perfect more designs, I may make more of them available for sale there. The responsibility for these projects is entirely mine, and I am only using my Binghamton University website to provide information about their commercial availability in the same way that I might provide information about the availability of a textbook or other useful educational resource.




To see more types of sculpture I have tried, follow the following links:


Kinetic Sound Sculptures of Alex Feingold,
Stone and Wood Sculptures of Alex Feingold,
Bronze Metal Sculptures of Alex Feingold,
Steel and Plastic Sculptures of Alex Feingold,
Sculptures from Spring 2006,
Sculptures from Summer 2006,
Sculptures from Spring 2007,
Sculptures from Summer 2007,
Sculptures from Spring 2008,
Sculptures from Summer 2008,
Sculptures from Summer 2009,
Sculptures from Fall 2009,
Sculptures from Fall 2010,
Sculptures from Spring 2011,
Sculptures from Spring 2012,
Sculptures from Fall 2012,
Sculptures from Fall 2013,
Sculptures from Spring 2014,
Sculptures from Fall 2014,
Sculptures from Spring 2015,


Links back to:
Webpage of Alex Feingold,
Department of Mathematical Sciences,
Binghamton University.

This Webpage was last updated on 11/17/2015

---